Seaboard Folding Box completes installation of PPCTS DGM SMARTFOLD 1100SL ULTRA X FOLDER GLUER
December 7, 2018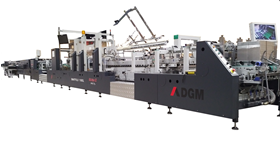 Seaboard Folding Box
December 07, 2018- Seaboard Folding Box, a recognized leader in the printed packaging industry located in Westminster, MA has completed the installation of a PPCTS DGM Smartfold 1100SL Ultra X folder gluer.
Mike Mazur, CEO of Seaboard Folding Box states "With the installation of the DGM Smartfold Ultra-X 1100-SL Seaboard has greatly expanded the capabilities and capacity in our Finishing Department. The investment in the state-of-the-art technology that the DGM Smart Fold offers will allow us to increase our average running rates by over 50%, provide significantly faster job changeover while improving quality and reducing production lead-times. To further improve our service offering we installed an Impack Ergosa Universal High-Speed Packer at the end of the machine. This will allow us to take advantage of the Smart Fold's top running speeds allowing us to double our unit output utilizing existing resources."
The SMARTFOLD 1100SL ULTRA X includes motorized job/memory recall carriers for fast job changeover, an extra length pre-folding section with tilting upper carrier frame, an extra length "universal crash-lock multi-function section" with integrated "bump & turn" and carton aligner, left & right 6 corner folding, as well as an extra length final folding section with drop down lower and lifting upper center carriers.
The SMARTFOLD 1100SL ULTRA X is powered with a multiple servo drive system for precise carton compression section shingle control through inching, production, acceleration and deceleration speed changes, as well as an innovative high-speed servo back folding system which allows minimal carton separation that increases production throughput of 4 and 6 corner cartons at lower belt speeds.
"Quality product and speed -to-market are critical for our customers." says Chris Morgan, Vice President of Sales and Marketing for Seaboard Folding Box. "This latest investment is a continuing commitment to our customer partnerships to drive growth in their respective markets".
About Seaboard Folding Box
Seaboard Folding Box has been a solid presence in the New England market bringing high quality packaging and outstanding service to our loyal customer base.
For more information, please contact Chris Morgan at 978 571-2731 or email at cmorgan@seaboardbox.com