The Transformation of Seaboard Folding Box
April 20, 2019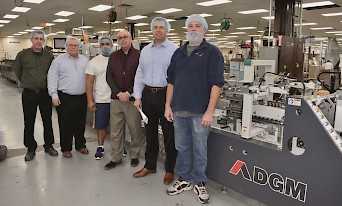 THE TRANSFORMATION OF SEABOARD FOLDING BOX
WITH A KEEN EYE ON MARKET EXPANSION, THIS U.S. BASED COMPANY HAS GREATLY
ENHANCED ITS CAPABILITIES WITH STATE-OF-THE-ART INVESTMENTS.

A sizeable investment in facility and capital equipment is fueling a strategy for growth at Seaboard Folding Box. In the last three years the Massachusetts folding carton manufacturer has installed significant production floor capacity, acquired a company and added value added processes to advance into new markets and elevate customer satisfaction. Located in the picturesque New England town of Westminster, the mid-sized company is vastly different today than when it was founded. "The business has been around for more than 40 years and the industry had a certain perception of it.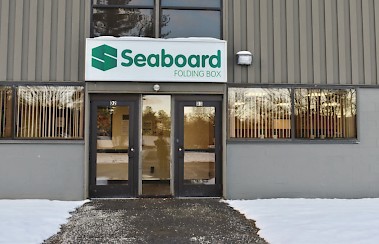 Now we're changing the model and making the investments to bring it to the next level," Mike Mazur, CEO, says. "The investments in equipment, technology and people were big steps in the transformation and we're looking forward to what the business is going to be." The company specializes in the quick turnaround of customized products for a variety of industries, including food, cosmetics, pharmaceutical and consumer goods. Customers are located throughout New England and even as far as the mid-Atlantic and Southern U.S. regions. Allen Rabinow founded Seaboard in 1974, however, its roots date back even further to 1954 when Rabinow's father George started Service Folding Box Co., Inc. In 2014 Charter Oak Equity and Peninsula Capital Partners acquired Seaboard, sparking the impetus for major change, the first of which was to relocate from a three-story manufacturing building in Fitchburg, Massachusetts, to a single-story building in Westminster that offered a more streamlined production flow and plenty of room for growth.
The 150,000-sq-ft operation includes administrative offices, pre-press, roll stock inventory, finished goods warehouse and a large production area. New state-of-the-art technology is evident throughout the facility, which employs more than 150 people. Recent capital expenditures and investments totaling more than $10 million include the new facility, a Heidelberg XL 106 eight-color 40-inch offset press with double coater, pre-press software and proofing upgrades, a Bobst Expertcut diecutter, an Epicor manufacturing scheduling system and Production Manager shop floor data collection system, two Packsize corrugated box makers, an AES (Automatic Equipment Sales) waste evacuation system, two Impack Ergosa Universal Packers and a PPCTS DGM Smartfold 1100SL Ultra X folder-gluer. "2018 was a big year in terms of the number of investments, particularly the two Ergosas, the new Smartfold gluer and Epicor and Production Manager. Over time it has been quite an evolution in the business," Mazur says. "It's exciting to see where the business started but more importantly where it's going. This building was the first step. Now the technology investments are coming behind it. We're starting to see the dust settle. These investments are really exciting and will start to drive things with the business. The metal is on the floor now. The Capex is here and these are the things that can help us run faster and get better."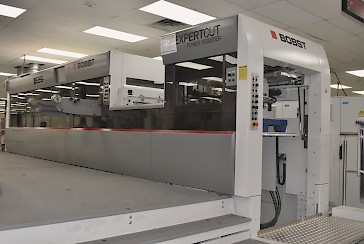 Finishing Capacity
Production Manager Arnold Schouten says he is exceedingly satisfied with the new technology, especially the Expertcut diecutter, Smartfold gluer and Ergosa packers. Seaboard has eight folder-gluers with W.H. Leary high speed gluing systems. One gluer, a Signature from American International Machinery, Inc., has a Tamarack Vista windowing attachment for producing windowed cartons inline by allowing the window to be applied at the same time as the folding/gluing operation.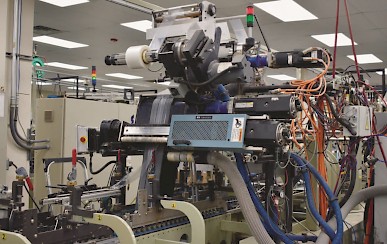 Combining these two operations creates efficiencies in job set-up, overall production time, production schedule management, and reduces personnel requirements. "This is one of the busiest machines we have right now," Schouten says. There is also a Heiber + Schroder window patcher for off-line windowing. The DGM Smartfold replaced two older gluers. Although it has only been running jobs since November, Mazur says it has significantly increased throughput, capacity
and on-time delivery. "We have a target of just under 1.4 million pieces a day. We've been much more consistent with hitting our production target, particularly in finishing." It has also eliminated any bottlenecks created by more complicated jobs. "We were really starting to get bogged down with four and six corner cartons with internals that were dedicated to two gluers," Schouten adds. "The DGM opened up capacity on some of the other gluers. It's really helped the floor move product out the door."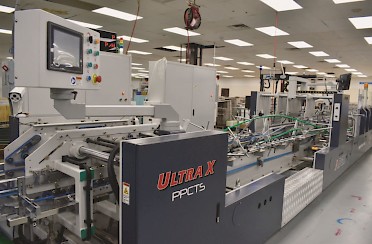 The Smartfold gluer is expected to increase average running rates by more than 50 percent and provide significantly faster job changeover while improving quality and reducing lead times. It includes motorized job/memory recall carriers for fast job changeover, an extra length pre-folding section with tilting upper carrier frame, an extra length universal crash-lock multi-function section with integrated 'bump & turn' and carton aligner, left and right six corner folding, as well as an extra length final folding section with drop down lower and lifting upper center carriers. The gluer is powered with a multiple servo drive system for precise carton compression section shingle control through inching, production, acceleration and deceleration speed changes, as well as a high-speed servo back folding system which allows minimal carton separation that increases production throughput of four and six corner cartons at lower belt speeds. "We've seen a large increase in four and six corner work. It was an absolute challenge for us with our old equipment. Putting in the DGM Smartfold really opened up that business," Mazur says. "It's a servo driven machine so the make-ready time reduces the second time you run it so that has really helped Arnold and the finishing team. It frees up the other lines by not having to run a really difficult complex box on the wrong machine for a long time and it allows Arnold to right-size what should go where."The Ergosa packer optimizes the Smartfold's top running speeds, doubling unit output. "We just ran a job that was 400,000 pieces that on (another gluer) would maybe run 7,500 an hour," Schouten says. "On the Smartfold with just one packer we got it up to 16,000. Our goal is to double the speed that we have on any of our other folder-gluers. We want to see a 100 percent increase in speed." The first Ergosa packer was installed on an International Speed King gluer that runs straight line cartons. That was the proving ground for installing the second packer. "The plan in 2018 was to prove the ROI in the finishing side with increased speeds and throughput. That was a very successful start.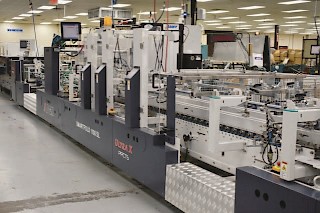 DGM was part two of that," Mazur says. "Our goal is to justify the DGM and demonstrate the ROI to buy another one. If we're successful and execute, the next piece will come, which will allow us to get leaner and faster."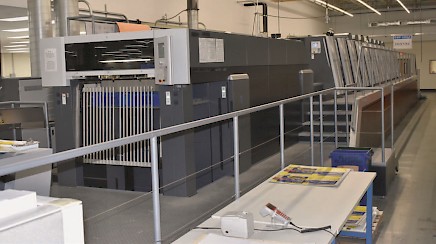 Premium Printing
Seaboard has two Heidelberg 28- x 40-inch presses. The XL 106 was installed in conjunction with the move into the new facility. The second press is a six-color with single coater. The newer Heidelberg has provided key opportunities in the higher-end premium folding carton markets, with the ability to run specialty coatings. Offline capabilities include foil stamping, embossing and debossing. master qualification by Idealliance and began its rollout of expanded gamut printing. Seaboard is also ISO 9001:2015 and FSC certified. At press time the company was expected to receive SQF (Safe Quality Food) certification. In-house efficiencies are a key value proposition and include structural design, proofing and graphic services. Printing plates and cutting dies are produced on Heidelberg and Gerber systems. Roll stock is sheeted on two Maxson sheeters. On-demand corrugated boxes are produced on the two Packsize machines, and the company even has its own fleet of trucks. The shop floor data collection reporting system and Epicor scheduling system were installed last year. "As our business grew (with the acquisition of C.J. Fox and Imperial Packaging Corp.), it got to the point very quickly that we couldn't schedule using a schedule board. It's too inefficient," Chris Morgan, VP of Sales and Marketing, says. The scheduling system facilitates forecasting and master production scheduling and provides day-to-day control as well as long range planning for improved lead times. "With the manual board you couldn't give the customer an answer four weeks from now (about the production schedule)," Schouten says. "At least now we have the capacity to say,'In four weeks this is exactly what I have lined up.' This gives us the ability to give customers answers on commitments that we can make." The software provides full transparency of the production lines. "Each piece of equipment has a screen and monitor and keeps track of the performance of the equipment," Morgan says. "That has been a nice change for us because we can see remotely and from our desktops exactly where we are."The next phase is evaluating the data, Mazur says. "We can track speed and efficiencies and look at the jobs but now it's about how to use and refine the data so Arnold can find opportunities."
Long-term Commitment
With the recent investments Seaboard has expanded its potential market reach. "So now the emphasis is on filling the beast," Morgan says. "We have room for growth in the New England market. We'd like to move into more higher-end, value-added products. With the new press we can now do soft touch coatings and UV that is often found in the spirit and cosmetics industries. We can also expand our geographic reach down to the mid-Atlantic and perhaps as west as Ohio. We think there is enough business out there to feed us. We've got a fairly large and experienced sales force." Communication is key, Kevin Trainor, Vice President of Operations, says. "We have found that in order to be successful in the printing industry you need effective communication. Now when we receive a call from a customer, we know what raw materials, including paper grades that we have on hand. In 2018 we opened up communication to a new level. We can manage whatever we know." Mazur says that future acquisitions will figure prominently. "That's the plan to find some opportunities with good synergy that would expand our geographic reach or enhance our capabilities. Our ownership group is pretty active in the market in terms of what they're looking at." He says the ownership companies are committed to Seaboard's success. "They've obviously proven what they want to do and their vision for the business and they've certainly been willing to make the investments. They are a more long-term focused organization than I've historically seen with a private equity group. Now is the time for the business to really perform and grow. They have made the investments and proven that they are in it for the long haul."